I'm sure that not every one is aware that the state of Kansas actually has some very beautiful and breathtaking mountains. Yes, it's true, when driving across the lovely state you may be saying to yourself, "if I just shut my eyes maybe my view will improve,"...and then you see them. Far off in the distance at first, then closer and closer...yes, there, there are mountains in Kansas. And oh, look at the snow, how beautiful. "Thank you God for creating such awe inspiring views for my bored eyes!"
I know this is probably not making sense to many, but it's all too familiar to me. You see, when you have been in a van with teenagers longing to stretch your cramped legs in COLORADO your mind begins to play tricks on you. When you want to see something but don't, your mind somehow creates that image to please your senses. This is very common in the desert but I experienced it just the other day on our way to Colorado for our teen ski trip. This would be my first time skiing and I was pumped to say the least. I couldn't wait to see the views, the mountains covered in snow, my breathe visible for the first time this year and to see what it's like to look down from the top of a mountain.
Well, my hopes were dashed about 37 miles from the Colorado state line somewhere close to Garden City, Kansas. We knew there was a blizzard heading for our destination of Winter Park Resort outside of Denver so we left Hot Springs a day early hoping to gain a little extra time to navigate through the storm. God had different plans for us. Shawn had said that he felt this trip was vital for our group to bond. And bond we did. We bonded all day. We bonded all night in our 15 passenger van. We actually had 2 vans and it was amazing to see God's Spirit guide us on our trip. Thoughts of the famous Donner Party flashed through my mind as the teens stocked up on water at every gas station "just in case". Our plan to take hwy. 75 was changed when it closed. So we decided to go a little south to cut over to hwy. 25. Well, then the road we were taking to get to 25 closed. In fact the entire eastern part of Colorado closed. It was no use, we would not be going skiing after all. We decided to make the best of it and stay the night in Garden City and go hang out at the Target in town for the 3rd time that day. While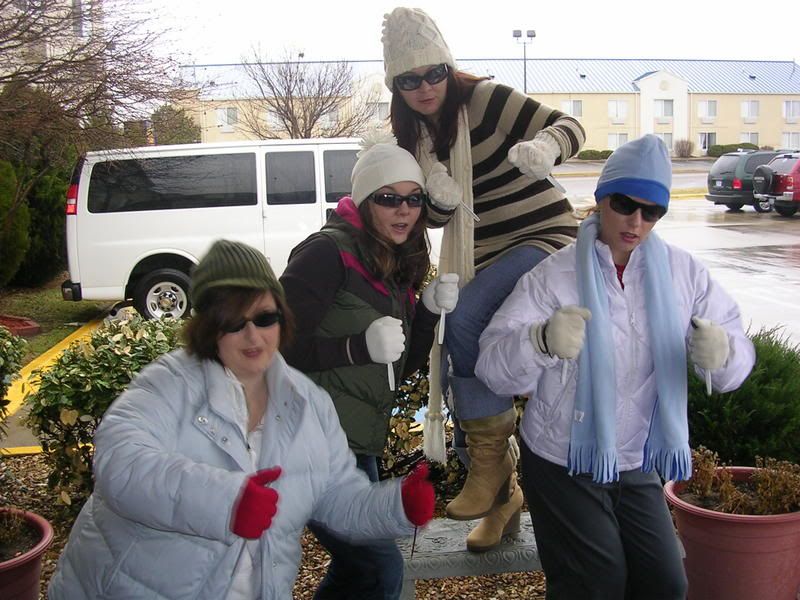 going in to check into our hotel, we got another weather report that the stalling storm was now moving and it was moving toward Garden City. YEA! Now what? Let's go to the fun town of

Wichita

, now there's a happening place if I ever saw one! (I really can't be too sarcastic, I am living in Arkansas.) Waking up the next day in

Wichita

instead of Colorado was disheartening but we were

relieved

when we saw the weather channel that morning with a report saying that Garden City got a load of snow and we would have probably gotten stuck there. At least we would have gotten to actually see some snow I guess...we might have starved, but we could have seen snow!!!
All is good. I can return the ski socks and mittens I borrowed from a friend who used to live in Denver and

skied

every day. I will have no exciting ski story to tell her, but I will be able to tell her that God protected us which is pretty exciting.
Even more amazing than that the teens didn't complain at all! They were great. Sure we were all

disappointed

, but we didn't let it stop us from making new memories and BONDING in every sense of the word! Lest I remind you of what it smells like in a church van on a 32 hour ride?!?! Some one once said that getting there is half the fun. Well for us, getting there and getting home was 100% of the fun!